Easy

   Serves 4
Ingredients
4 salmon fillets
35 g chopped cranberries
30 g breadcrumbs
2 orange zests
3 tbsp olive oil
1 Seasoning
Method
STEP 1
Finely chop both the pecan nuts and cranberries into small bite-size pieces.
STEP 2
In a large mixing bowl place the chopped pecans, cranberries, breadcrumbs and orange zest and add olive oil.
STEP 3
Stir thoroughly to ensure that the mixture is fully coated in olive oil, this will help firmly bind your topping together.
STEP 4
Bake at 200°C/Gas mark 6 in a pre-heated oven for 10-15 minutes until the crust appears golden and crispy. While your salmon is in the oven, why not roast your favourite festive veg for the perfect accompaniment?
Source:
https://www.lovefood.com/recipes/56535/saucy-fish-co-orange-cranberry-crusted-salmon-recipe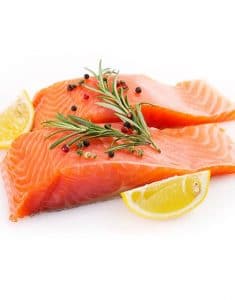 Farmed Skinless fillets with no bones and are exceptionally easy to prepare. There are a myriad of exciting and healthy ways to cook this beautiful fish grilling, pan-frying or roasting in foil.