Thermidor: What is it?
Lobster Thermidor has been a sought-after recipe for many years thanks to Food PR hype and being top billing on many restaurants' specials board.
How can it be anything but delicious? Basically, lobster thermidor consists of lobster meat simmered in wine sauce, inserted into the empty lobster shells, covered with Parmesan cheese, and then baked.
Half a lobster is cut open, all the meat is scooped out and diced into big pieces. A béchamel sauce is then drizzled over the meat and grated parmesan cheese is sprinkled on top. It looks incredible when it's served in the lobster shell, which is the highlight of this dish!
This sauce is fundamentally a bechamel, but it is infused with white wine as well as mustard, making it a little thicker so that it stays on top of the shell and meat of the lobster.
Parmesan cheese is sprinkled on top of lobster thermidor and grilled to make it deliciously crispy, leaving it slightly golden brown on the top. What's not to love about grilled cheese? All things are better with it.
Why is it called that?
You can decide which narrative you believe explains how this delicious meal was created! As for the first, it is quite simple, it was named Thermidor by Napoleon Bonaparte on the day he tasted it for the first time. In the 1800s, this was derived from the calendar used during the French Revolution.
Another story is that it was developed by Marie's restaurant in Paris in 1894. This meal was created at the premier of a French play with the title "Thermidor". After three performances, the play was banned due to its historical content as well as its sensitivity to political issues. Regardless of how this dish came to be, its popularity grew rapidly.
Is it expensive?
It is important to ask why lobster is so expensive in the first place. In a nutshell, gathering and processing it requires a lot of effort. It takes lobsters a long time to grow, they consume a lot of food, and they are hard to breed. If you don't keep them apart, they'll devour each other, and if they're left in the wild, every living thing will eat them, so it's important to protect them until they can protect themselves. Due to all of these factors, lobster farming is difficult. As a result, wild lobsters are needed to supply lobster supplies.
What makes it so appealing to you to buy it frozen?
Frozen lobster thermidor is kind of like a ready meal, but a far superior one to your local supermarket's Indian dish! The quality won't degrade in the freezer for at least three months. After defrosting in the refrigerator overnight, transfer to a baking sheet, baking for around 15 minutes.
For crispier cheese, turn your oven on the grill for a few minutes. You can order it online and have it sent right to your home. It's what makes everything so great, isn't it?
You can even make it yourself if you are a bit more adventurous. You can prepare the meal yourself by purchasing a whole lobster, defrosting it overnight, and then cooking it! You can also find a wonderful recipe here that takes no time at all and is almost impossible to mess up. If you want to make the Thermidor sauce, there are numerous recipes online, just Google it. There is no limit to how you can customize it.
Lobster Thermidor recipe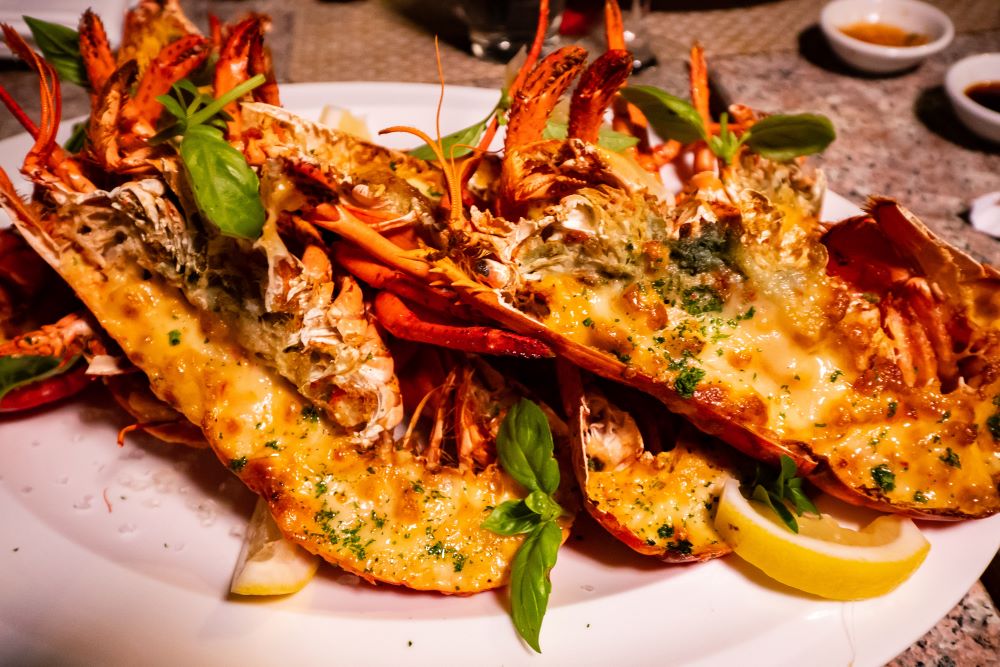 It is amazing how easy to make this stunning lobster Thermidor. Cooked lobster is then stuffed into lobster shells smothered with white wine sauce, garnished with Parmesan cheese, and baked to perfection.
Preparation time: 30 minutes
Cooking time: 10 minutes
Serves 2
Ingredients
1 medium cooked lobster (1 1/2 pound)
2 tablespoons of butter
1 shallot, finely chopped
2 cups of fresh fish or lobster stock
¼ cup of cooking white wine
¼ cup of double cream
½ teaspoon of spicy English mustard
2 tablespoons of fresh parsley, chopped
1 tablespoon of lemon juice
A pinch of salt and ground black pepper to taste
¼ cup of grated Parmesan cheese
Method
Using a lobster cutter, cut the lobster in half lengthwise, and remove any claw meat, head, and tail meat. Place the meat back into the lobster shells after cutting it into pieces.
Put the butter into a large skillet and melt it over medium heat. Add shallot; stir constantly until tender. Add white wine, double cream, and fish stock. Bring the mixture to a boil, until half of the sauce is reduced. Add the parsley, mustard, and lemon juice to the mixture. You can season to taste.
Make sure your oven's broiler is preheated.
Prepare a broiler pan or baking sheet then arrange the stuffed lobster halves on it. Sprinkle Parmesan cheese over the sauce-covered meat.
Broil for 3 to 4 minutes in the preheated oven. The dish should be served right away alongside a fresh green salad.