Easy

   Serves 4
Ingredients
5 razor clams shells scrubbed under cold water just before cooking
2 teaspoons of your favourite cooking oil
1/2 fresh lemongrass stick peeled, bashed with the back of a heavy knife & finely chopped
1 garlic clove finely chopped
1/2 inch fresh ginger root peeled & grated
1 teaspoon lime juice
1 pinch dried chilli flakes
1 spring onion
1-2 tablespoons fresh coriander finely chopped
Method
STEP 1
Heat the oil in a large, flat bottomed pan.
STEP 2
Add in the lemongrass, garlic and ginger and fry for 1 minute to release the flavours. Do not let them burn.
STEP 3
Quickly place the clams in the hot pan and cover with a lid or a plate. The clams are still alive at this point so it is essential that you do this quickly to minimise their suffering.
STEP 4
After 1-2 minutes, shake the pan around and remove the lid.
STEP 5
The clams should all have opened and released a lot of juice into the pan. Spoon the juice over the top of the clams to get the flavour into the shells.
STEP 6
Sprinkle with the lime juice, chilli, spring onion and coriander and serve.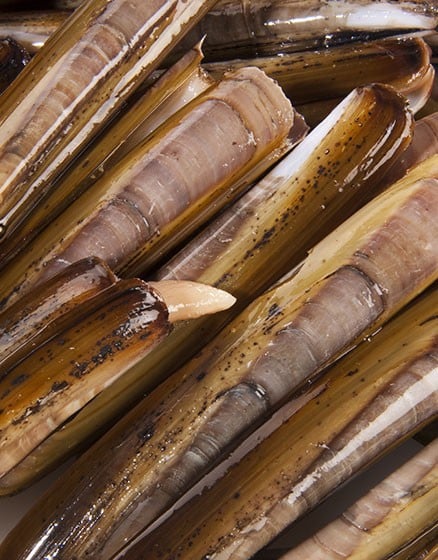 These are farmed and new to us and well worth a try.
They live in the sand to catch them you pour salt on top of their burrow and they poke out – maybe there is an easier way modern way.