Easy

   Serves 2
Ingredients
plain flour 3 tbsp, well seasoned
egg 1, beaten
panko breadcrumbs 100g
plaice fillets 4 small
vegetable oil for frying
sea salt flakes
new potatoes boiled and tossed in butter, to serve
SAUCE VIERGE
coriander seeds 1 tsp, lightly crushed
extra-virgin olive oil 5 tbsp
lemon 1, zested, 1⁄2 juiced
cherry tomatoes 100g, diced
baby capers 2 tsp
basil 1⁄2 a small bunch, roughly chopped
flat-leaf parsley 1⁄2 a small bunch, roughly chopped
Method
STEP 1
To make the sauce vierge, put the coriander seeds into a small pan and toast for 2 minutes until fragrant. Pour in the olive oil and add the lemon zest and tomatoes and heat gently until the tomatoes are just soft. Add the lemon juice and capers, season lightly and remove from the heat.
STEP 2
Put the seasoned flour, egg and breadcrumbs into 3 separate, shallow bowls, then toss the plaice fillets first in the flour, then the egg and finally the breadcrumbs.
STEP 3
Heat 1cm of oil in a large non-stick frying pan over a medium-high heat. Carefully lower in the plaice fillets and fry for 2-3 minutes on each side until really golden, then drain on kitchen paper and season with sea salt flakes.
STEP 4
Stir the herbs through the sauce vierge and serve with the breaded plaice and buttered new potatoes, if you like.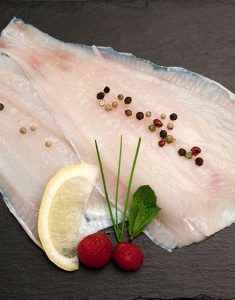 This wild Plaice is a superb fish possessing a fine, moist texture and subtle but distinctive flavour.
Given the right treatment, it makes a simple, healthy, inexpensive and absolutely delicious lunch or supper.
Ours are finest Dutch Plaice with a light ice glaze.
Plaice cooks very quickly – fillets need only a total cooking time of 4-5 minutes whether grilled, fried or poached. Use the poaching method to make a sauce or coat fillets of Plaice with egg and breadcrumbs and pan-fry in butter and a little oil.
Serve with a chilled Pinot Grigio or lightly-oaked Chardonnay white wine.