Easy

   Serves 4
Ingredients
3 tablespoons olive oil, divided
4 mahi mahi or salmon fillets (6 ounces each)
3 medium sweet red peppers, cut into thick strips
1/2 pound sliced baby portobello mushrooms
1 large sweet onion, cut into thick rings and separated
1/3 cup lemon juice
3/4 teaspoon salt, divided
1/2 teaspoon pepper
1/4 cup minced fresh chives
1/3 cup pine nuts, optional
Method
STEP 1
In a large skillet, heat 2 tablespoons oil over medium-high heat.
STEP 2
Add remaining oil, peppers, mushrooms, onion, lemon juice and 1/4 teaspoon salt.
STEP 3
Cook, covered, over medium heat until vegetables are tender, stirring occasionally, 6-8 minutes.
STEP 4

Place fish over vegetables; sprinkle with pepper and remaining salt.
STEP 5
Cook, covered, 2 minutes longer or until heated through. Sprinkle with chives and, if desired, pine nuts before serving.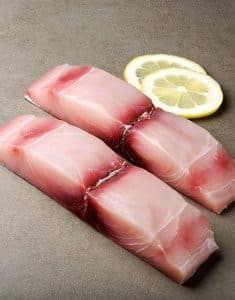 Mahi-mahi,  a Hawaiian word that means "very strong",  is a common dolphinfish.