Easy

   Serves 4
Ingredients
1/4 cup orange juice
1 clove garlic, minced
1/4 cup soy sauce
1/2 teaspoon chopped fresh oregano
2 tablespoons olive oil
1/2 teaspoon ground black pepper
4 (4 ounce) tuna steaks
1 tablespoon lemon juice
2 tablespoons chopped fresh parsley
Method
STEP 1
In a large non-reactive dish, mix together the orange juice, soy sauce, olive oil, lemon juice, parsley, garlic, oregano, and pepper. Place the tuna steaks in the marinade and turn to coat. Cover, and refrigerate for at least 30 minutes.
STEP 2
Preheat grill for high heat.
STEP 3
Lightly oil grill grate. Cook the tuna steaks for 5 to 6 minutes, then turn and baste with the marinade. Cook for an additional 5 minutes, or to desired doneness. Discard any remaining marinade.
Source:
https://www.allrecipes.com/recipe/39455/marinated-tuna-steak/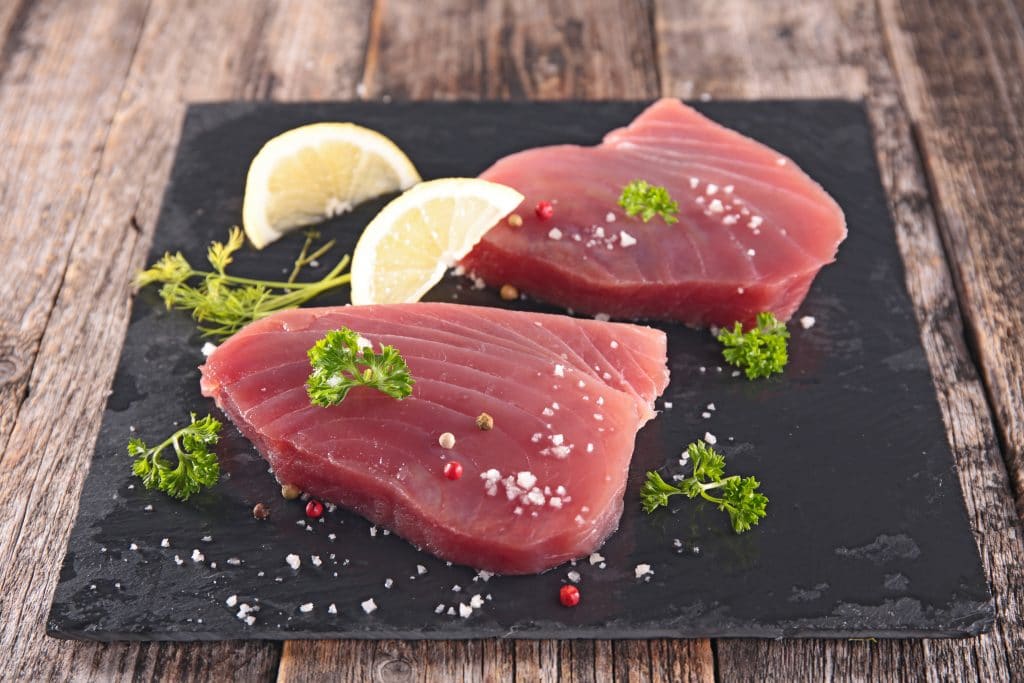 Skinless – Boneless Tuna supreme. 170-230g. Line caught in Pacific Ocean. (Thunnus albacares) A delicious source of protein, ideal pain fried or grilled, eaten hot or cold.