What is Tuna Sashimi?
A sashimi platter consists of thinly sliced raw fish (and sometimes cooked fish), with an assortment of condiments featuring flavours like wasabi, fresh ginger, and soy sauce.
We sell tuna sashimi, one of the world's most sought-after raw sashimi varieties.
There is a similarity between sashimi and sushi, but they are distinct from one another. You can think of it as the portion of fish, but as soon as you add seaweed and rice, it becomes sushi.
Defrosting Sashimi: How do you do it?
Take the vacuum pack off from tuna sashimi, cover it with a sheet of kitchen paper, and let it defrost overnight in the fridge. As well as protecting it from odours, the towel will keep liquids from running off. Defrosting slowly inside the fridge maintains tuna's characteristics and texture more effectively than defrosting quickly outdoors.
Tuna is also thawed more evenly in this manner. The last thing you want to do is slice frozen tuna.
The tuna's deep red flesh (similar to beef's red flesh) is one of its most striking features. In contrast, a tuna's colour turns brown when it dies. Fish can usually be judged by their colour to determine how fresh they are, however, when it comes to tuna, looking at its colour can be misleading as it can be restored because carbon monoxide quickly restores its colour.
The Art of Slicing Tuna Sashimi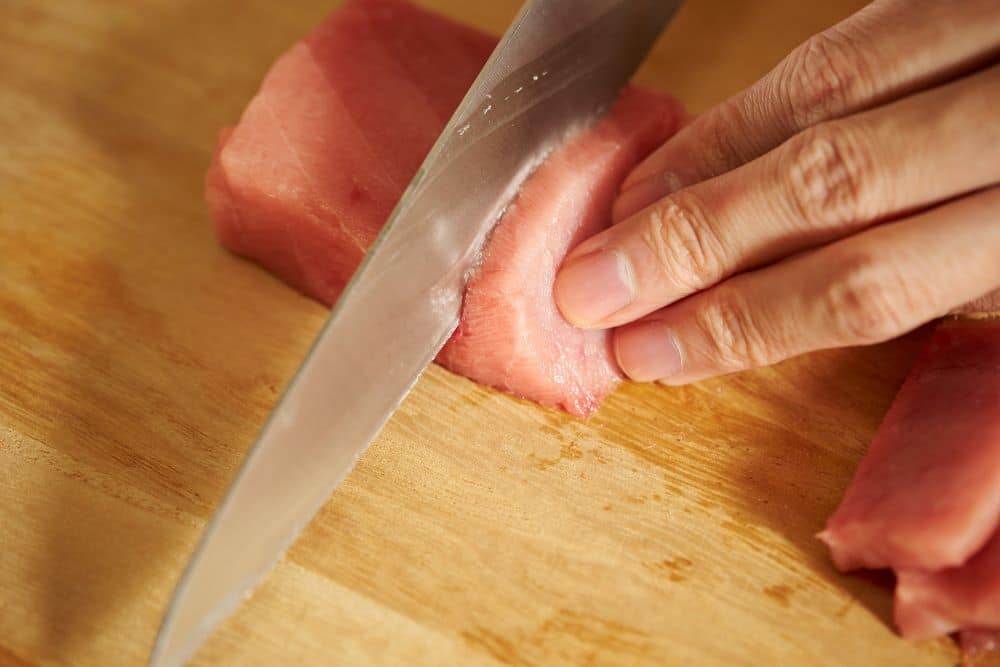 You should always use a very sharp knife for sashimi cutting. To prevent the mushing of the flesh, it requires a smooth cut through the tuna.
Japanese sushi knives are available online for a range of prices with amazing results. It's almost as good as those kitchen knives if they're reasonably sharp. If you wet your knife, it will easily glide through your fresh fish and help you slice it evenly.
Sashimi blocks can be cut in two ways: hira-zukuri, rectangle-shaped, and usu-zukuri, thin slices.
When cutting thin slices, follow the grain, which is usually the longest dimension. While cutting, ensure the fish is firmly held by the hand that is not holding the knife. With your knife, the side will be very close to touching the fish, so you'll make a shallow slant to make thin slices. You shouldn't even try to cut flesh with a dull knife because you will likely end up mushing it.
When making the thick slice of sashimi, slice the block vertically by using one stroke only, going against the fish grain. According to your liking and the number of people you will serve, you can make the slices thicker or thinner. A sharp knife is required for really thin cuts.
The Best Frozen Tuna
We only use premium frozen yellowfin tuna. As far as super-freezing is concerned, it means – 60°C, which keeps it red. After processing, it must be frozen to -60°C throughout transport, which can take months and many miles. Having a few instances of -20°C is acceptable, but excessive sub-20 results in reddish-brown flesh.
A huge -60°C freezer holds our yellowfin tuna and dry ice cools it to -80°C when it leaves the facility. Once it reaches you, it will be -20°C at most, which means you should be eating raw fish shortly after receiving it.
In terms of taste, brown tuna doesn't differ much from red tuna, but if you eat it by sight, it won't satisfy you.
A Tuna Fit for Sashimi
There is no official definition of the term sashimi-grade fish, even though many businesses use it. Fish that are certified as fresh and bruise-free is of the highest quality. Except for pricing, it has little meaning to salespeople and buyers.
Generally speaking, however, when it comes to tuna prices, quality is reflected in the price, especially if the brand is reputable.
Tuna's back meat is where we get our tuna. This part of the fish is dark reddish and leaner than its belly.
Tuna Sashimi Recipe
Preparation time: 10 min.
Cooking time: 0
Serves 4
Ingredients
500g sashimi-grade tuna
2 avocados, flesh cut into thick slices
2 tablespoons extra virgin olive oil
1 tablespoon lime juice, plus extra lime to serve
4 spring onions, finely sliced on the diagonal
1/2 cup (125ml) light soy sauce
Sprinkle with sesame seeds
Method
Using a sharp knife, cut the tuna into 0.5cm slices. Place on a serving platter with the slices of avocado.
Combine the extra virgin olive oil and lime juice. When ready to serve, dress the avocado and tuna with lime dressing. Garnish with spring onions and season with sea salt and pepper.
Serve with the soy sauce for dipping, and extra lime if desired.