Easy

   Serves 2
Ingredients
new potatoes 200g, thinly sliced
onion 1 small, peeled and finely sliced
butter
eggs 6
smoked salmon 70g, sliced
dill a small handful, chopped
Method
STEP 1
Cook the potatoes in boiling salted water until very tender, then drain really well. While the potatoes are cooking, fry the onion in a knob of butter until really soft
STEP 2
Whisk the eggs with some seasoning then tip in the potatoes, onion, salmon and dill, and stir. Heat another knob of butter in a medium, non-stick frying pan.
STEP 3
Pour in the egg mix and leave for a few minutes until the bottom has set. Slide under a grill to set the top then cut into wedges to serve.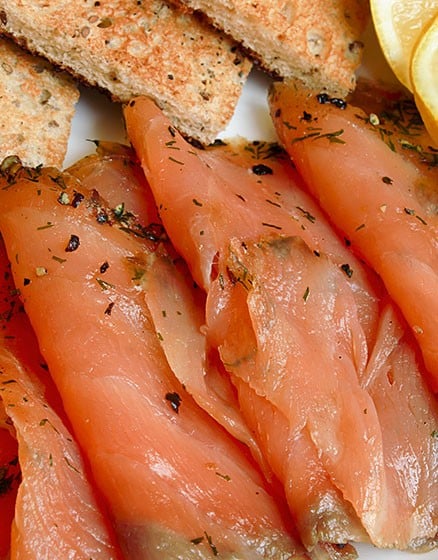 Farmed Scottish, Sliced and ready to eat, the 1kg pack would make an ideal starter for 5 people.
It is just so versatile.  Why not try Smoked Salmon with horseradish and dill cream or Smoked Salmon and cream cheese rolls or make an impressive Smoked Salmon terrine or turn into a paté and serve with triangles of brown toast – the choice is yours!
The ultra-dry minerally Sauvignons of the Loire like Sancerre and Pouilly-Fumé with their delicate gooseberry fruit are perfect for simply served smoked Salmon.